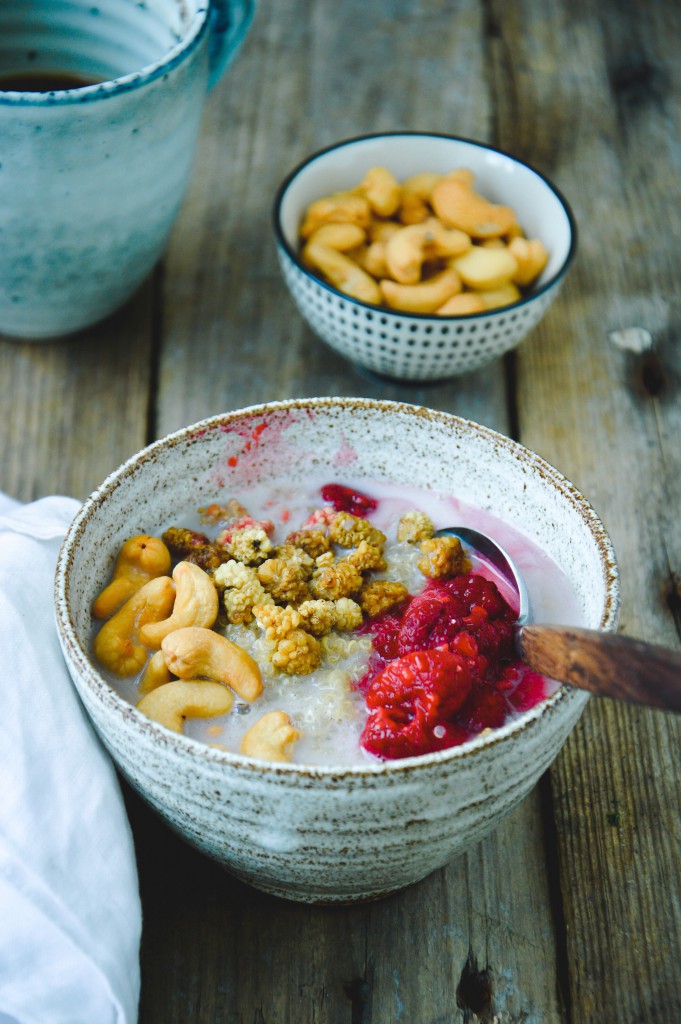 Idag vaknade vi av regnet som smattrade mot fönsterrutan. Snön smälter ungefär lika snabbt som en glass i solsken och den där juliga känslan som infann sig förra veckan är nu som bortblåst. Det grå och regniga vädret passade dock bra in på mitt humör idag. Pga för mycket träning i för kallt väder har jag sträckt eller överansträngt en av de nedre magmusklerna (tror jag) och det gör ONT. Jag hoppas att det blir bättre de närmsta dagarna för jag har varken tid eller lust med detta.
Den här veckan kommer precis som förra veckan vara rätt så intensiv. Jag fortsätter att jobba med min hemsida och nu väntar jag på att den ska flyttas till mitt nya webbhotell, vilket verkar ta aplång tid. Jag som bara vill börja förverkliga mina planer och förvandla kladdiga anteckningar och skisser till en snygg hemsida. Så länge får jag fokusera på att skriva texter och artiklar, redigera tonvis med bilder, planera för fotografering och så fixa med ungefär 200 ton grafiskt material. Men allt det där tillsammans är det roligaste jag vet, så jag klagar inte 🙂 Och på mitt jobb har jag världens bästa kolleger som alltid gör mig på superbra humör så jag är faktiskt väldigt nöjd med livet trots den förbaskade muskeln/senan/whatever.
Under intensiva veckor som denna och den förra är det extra viktigt att jag har bra recept på lager. Som vanligt ska det gå snabbt att laga och så ska det vara fullproppat med näring så att man kan jobba effektivt och må bra samtidigt. Dagens recept på krämig quinoagröt är ett sånt recept som jag alltid kommer tillbaka till när jag söker efter just lättlagade, näringstäta och supergoda maträtter som går att äta både som frukost och lunch/middag. Quinoa är inte bara ett matgryn, det går utmärkt att koka gröt på det. Byt bara ut vattnet mot vegetabilisk dryck och tillsätt en gnutta äkta vaniljpulver så är du hemma.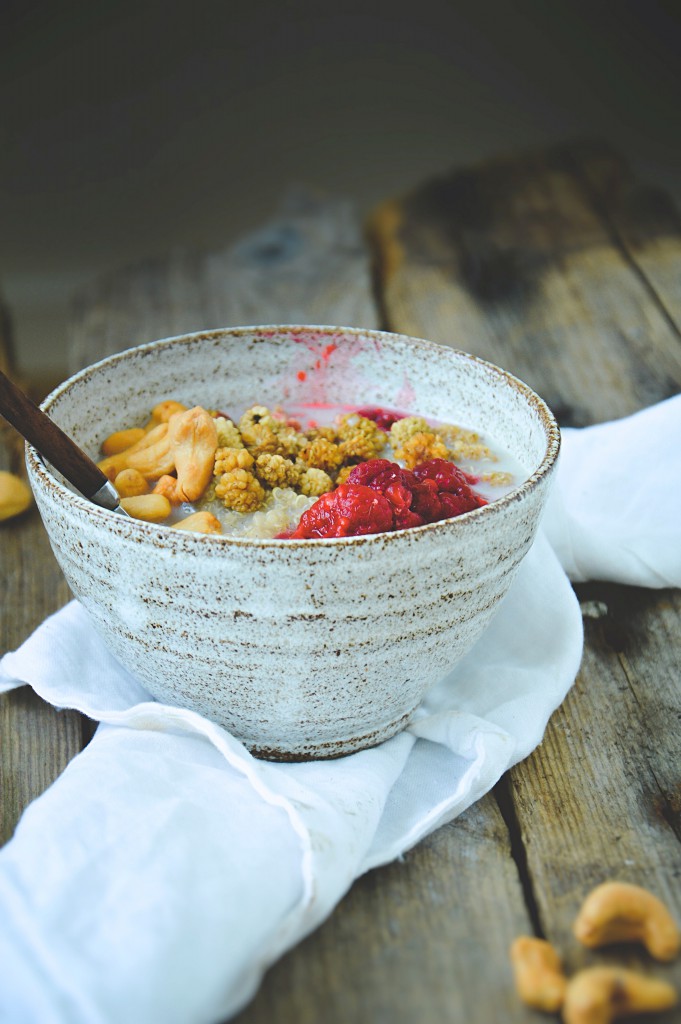 Quinoagröt med vanilj
1 dl vit, okokt quinoa
2 krm äkta vaniljpulver
3 dl vegetabilisk dryck (exempelvis soja, havre eller mandel)
1 dl vatten
Blanda alla ingredienser i en kastrull och låt koka upp. Sänk värmen och låt gröten sjuda på medelhög värme i 15-20 minuter, eller tills quinoan absorberat vätskan och känns mjuk. Om det behövs kan du tillsätta lite mer vegetabilisk dryck och låta gröten koka några minuter till. Servera med bär, nötter och vegetabilisk dryck.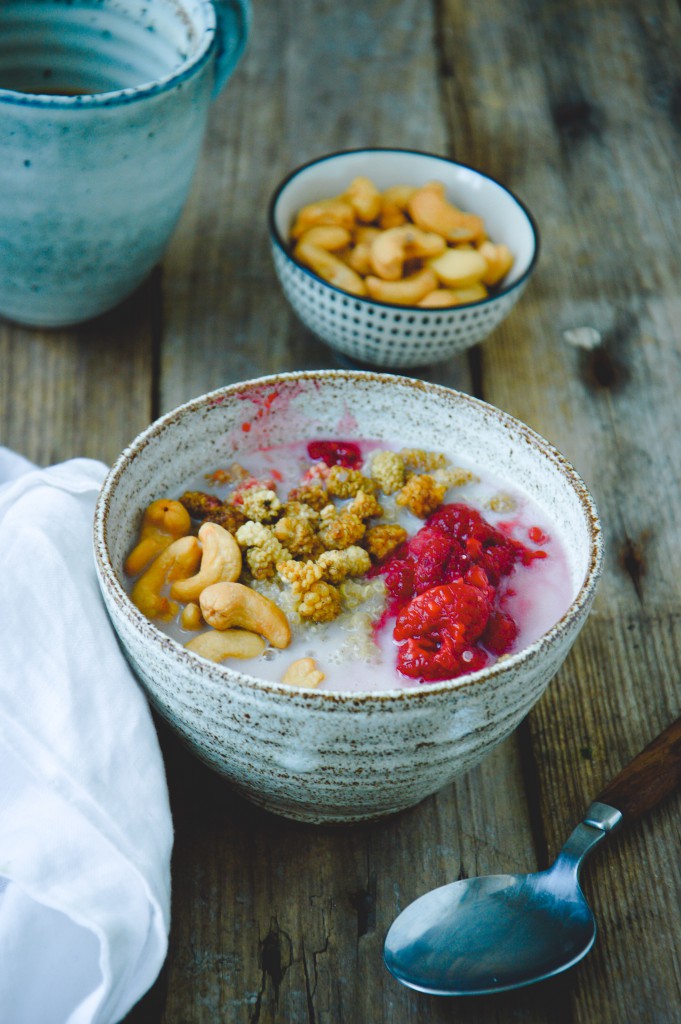 Today we woke up by the sound of rain pouring down outside or bedroom window. The snow is melting as quickly as an icecream in the sun and that lovely Christmas feeling from last week is almost gone. This grey and rainy weather did however match my spirit today. I've been working out too much lately (in too cold weather) and because of that gotten some sort of tension in the lower abdominals and it HURTS. I hope it will get better soon because I have neither time nor am I in the mood for this. 
This week is going to be as intense as the previous one. I continue to work with my website and right now I'm waiting for my domain to be transferred to my new web host. It seems to take like forever and I'm just sitting here, waiting to turn my sketches and notes into a beautiful website. While I wait I'm focusing on writing articles, editing billions of photos, planning a photoshoot and of course, creating all the graphics that needs to be done.  But those things are the funniest things I know, so I'm not complaining 🙂 Plus, I have the best collegues ever, always making me smile. So, despite the darn muscle/tendon/whatever I'm very happy with my life. 
During intense weeks like this and the previous one, it's so important to have easy recipes on hand. Like usual I want short prep times, but still I want the food to be full of nutrients. Quinoa porridge is a recipe I always come back to when I need to stay focused and work effectively. It is easy to prepare, full of nutrients and of course super yummy. 
Quinoa porridge with vanilla
1 dl white quinoa
1/2 tsp pure vanilla powder
3 dl plant milk of your choice
1 dl cold water
Pour the ingredients into a saucepan and bring to a boil. Lower the heat and let cook for about 15-20 minutes, or until the quinoa has absorbed the liquid. If it absorbs the milk too fast you can add some more and let cook for another few minutes. Serve with berries, nuts and more plant milk.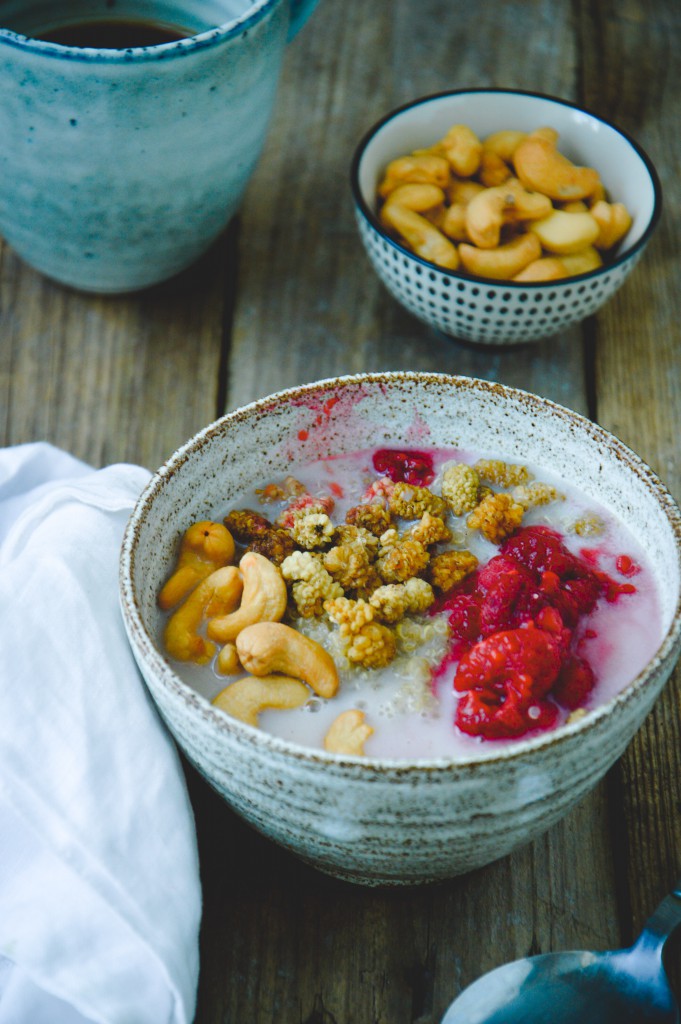 Warning: Trying to access array offset on value of type null in /customers/2/c/2/thewaveswemake.se/httpd.www/wp-content/themes/20160107-simplemag/inc/ad-units-actions.php on line 111 Warning: Trying to access array offset on value of type null in /customers/2/c/2/thewaveswemake.se/httpd.www/wp-content/themes/20160107-simplemag/inc/ad-units-actions.php on line 111 Warning: Trying to access array offset on value of type null in /customers/2/c/2/thewaveswemake.se/httpd.www/wp-content/themes/20160107-simplemag/single.php on line 188