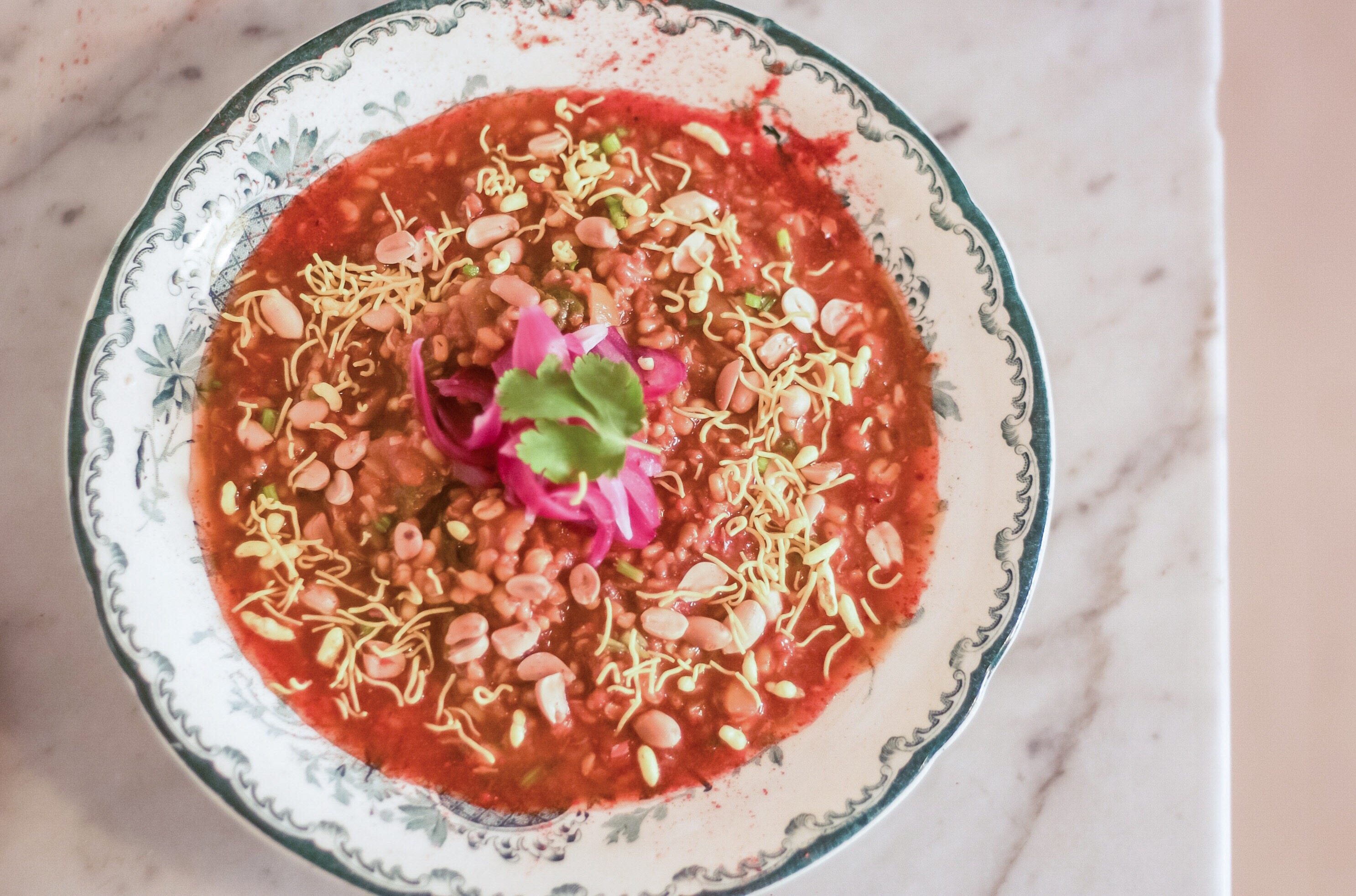 Hello! I would like to introduce you to the soothing and comforting sprouted legume stew called misal — it's a traditional dish from Maharashtra – where Bombay / Mumbai (my home city) lies. I ate it recently at the cafe Food for Thought (it's in the bookstore Kitab Khana in Fountain, Mumbai) and thought it was so delicious, full of flavors and textures. The stew itself is made with a spicy base of onion and tomato. Traditionally either sprouted moth beans, mung beans and green or brown chickpeas are added, but the idea is that they are sprouted.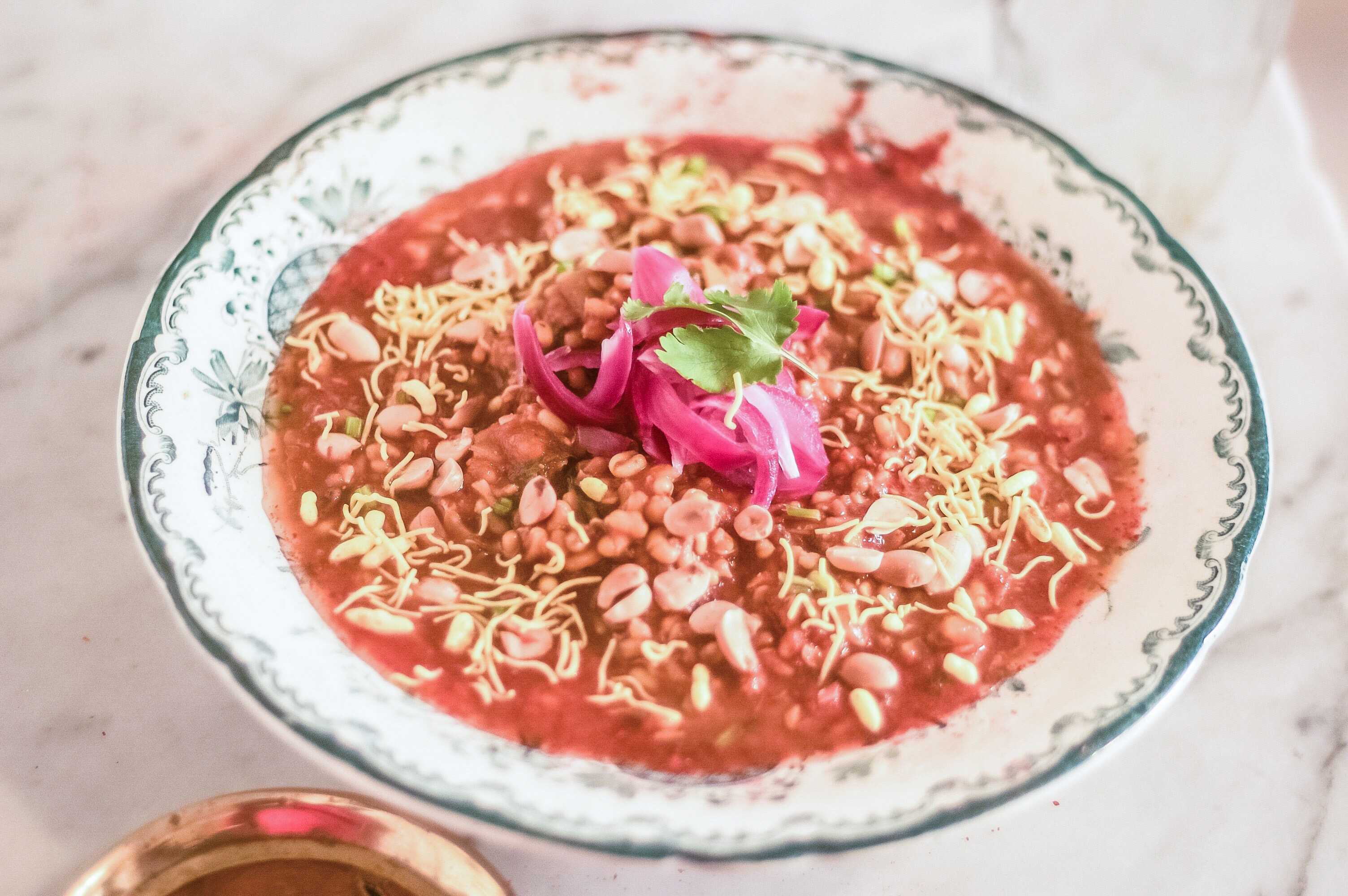 Why sprout?
Sprouting unlocks the nutrients from all seeds. The process, observed generally after 48 hours, releases enzymes, makes the product easier to absorb and better for digestion, therefore richer in nutrients. I like to sprout and freeze lentils, beans and chickpeas (pulses) for later, that way, I always have them on hand.
I know this recipe calls for unusual pulses that you may not have on hand, but I encourage you to seek them out at your local Indian or other ethnic grocery store. What all nutritionists will tell you is that food diversity is very important for overall health because different foods are packed with different nutrients.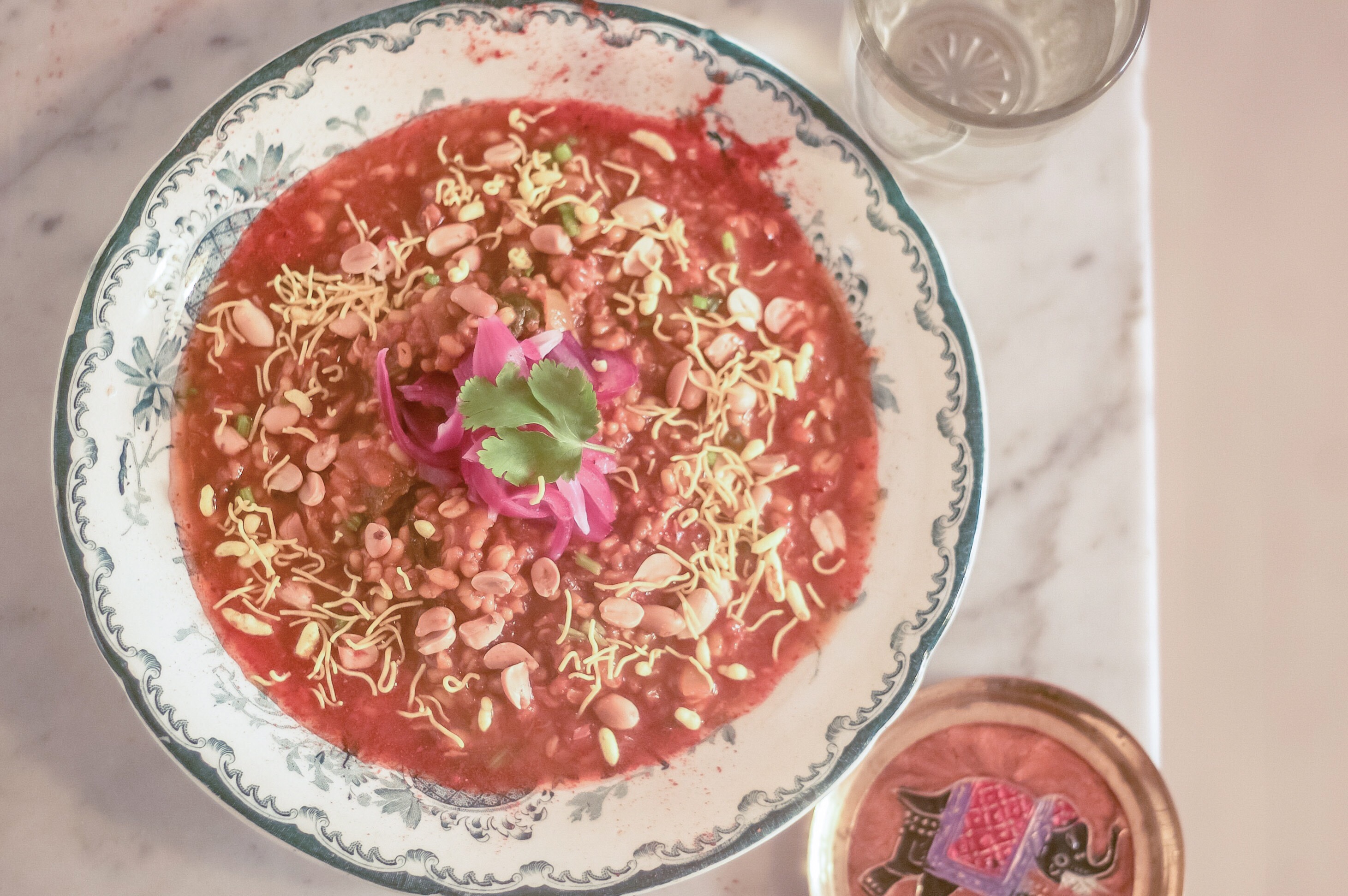 This dish is traditionally eaten with a soft dinner roll called pav. I have the recipe on my website but it also tastes great on its own.
Misal – sprouted pulses stew
Serves 4
1 cup green, brown or regular chickpeas
1/2 cup moth or mung beans
2 tbs / msk rapeseed oil
1 large onion, chopped
1 tbs / msk grated garlic
1 tbs / msk grated ginger
1/2 tsp / tsk turmeric
1 1/2 tsp / tsk coriander powder
1 1/2 tsp / tsk cumin powder
1/8-1/4 tsp / tsk chili powder
1 1/4 tsp / tsk ghati masala or garam masala
400 grams chopped tomatoes in juice
1/4 cup / 1/2 dl  dried coconut
3 cups / 3/4 liter water
Salt and pepper to tasteGarnishings:
A handful of fresh coriander
1 medium red onion, chopped, raw or pickled
1 Lime or lemon
A handful of roasted peanuts
A handful of sev (crispy chickpea cereal, found at the Indian store or online)
A soft dinner roll
(optional)
1. In a bowl, rinse the chickpeas and soak for 8-12 hours. In a separate bowl, rinse the moth or mung beans and soak for 8-12 hours. In the morning, drain and rinse each of them. Place each separately in a jar with a clean tea towel or cheesecloth on top to cover. Rinse and drain every 5 hours (or whenever possible). Once they start sprouting, place them in the fridge until ready to use or stash in the freezer for later use.
2. To make the stew, heat a large pot with oil on low heat and sauté the onions until golden. Then add garlic and ginger and cook for a minute. Add the spices and cook for 30 seconds, adding extra oil if needed in order to lightly fry them. Then add the tomatoes and simmer for 10 minutes. Then add water and the sprouted chickpeas and salt. Boil for 10-15 minutes until the chickpeas are tender, then add the sprouted mung beans and cook for another 10 minutes until tender. Taste for salt and pepper.
3. Serve a bowlful with coriander, red onion, peanuts, sev, a squirt of lime juice and a dinner roll, if needed.