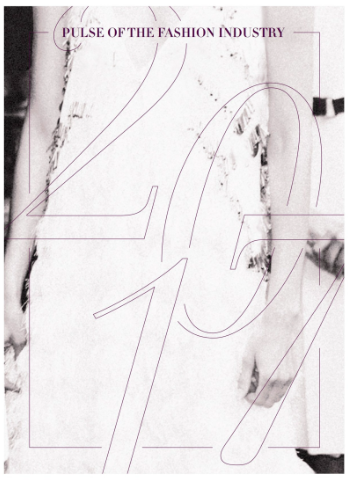 In conjunction with Copenhagen Fashion Summit two weeks ago this report was released – The Pulse of the Fashion Industry. It's published by Global Fashion Agenda & The Boston Consulting Group in an effort to describe the current state of fashion and pin point the most pressing issues of today and the future. The Global Fashion Agenda is a global leadership forum on fashion sustainability founded in 2016 and anchored around Copenhagen Fashion Summit, the world's principal event on sustainability in fashion for industry decision-makers. The Boston Consulting Group (BCG) is a global management consulting firm and one of the world's leading advisor on business strategy.
The report sets the agenda and speaks to the fact that the fashion industry is one of the worlds largest consumer industries today. When we see these numbers we can't dismiss fashion and its effect on all of us. The facts presented are somewhat daunting, but they also provide us with inspiration and motivation to be better, and do better.
In recent decades, the fashion industry has been an engine for global development. One of the world's largest consumer industries,1 generating €1.5 trillion in annual apparel and footwear revenues in 2016,2 it employs around 60 million people along its value chain.
If production and consumption of apparel and footwear follow their current trajectories, increasing by another 63%, fashion's environmental footprint will continue to contribute to the negative impacts on the planet.
For those of you who don't have the time to read the entire report, Business of Fashion (BOF) summarized the report in five bullet points.  Cost of Raw Materials,  Labour Disruption, Transport, Higher Regulation and Consumer Sentiment. Read the article HERE.

Warning: Trying to access array offset on value of type null in /customers/2/c/2/thewaveswemake.se/httpd.www/wp-content/themes/20160107-simplemag/inc/ad-units-actions.php on line 111 Warning: Trying to access array offset on value of type null in /customers/2/c/2/thewaveswemake.se/httpd.www/wp-content/themes/20160107-simplemag/inc/ad-units-actions.php on line 111 Warning: Trying to access array offset on value of type null in /customers/2/c/2/thewaveswemake.se/httpd.www/wp-content/themes/20160107-simplemag/single.php on line 188