Så, då har maj nått sitt slut och jag ser tillbaka på en fin månad där inspirationen flödat och jag har klottrat ner receptidéer och funderat på kommande blogginlägg. Under maj månad har sommaren, grönskan och blommorna kommit till Stockholm och jag har varit ute i naturen så fort tillfälle getts. Buketter med liljekonvalj har avlöst varandra här hemma och de första persikorna har landat i matbutiken.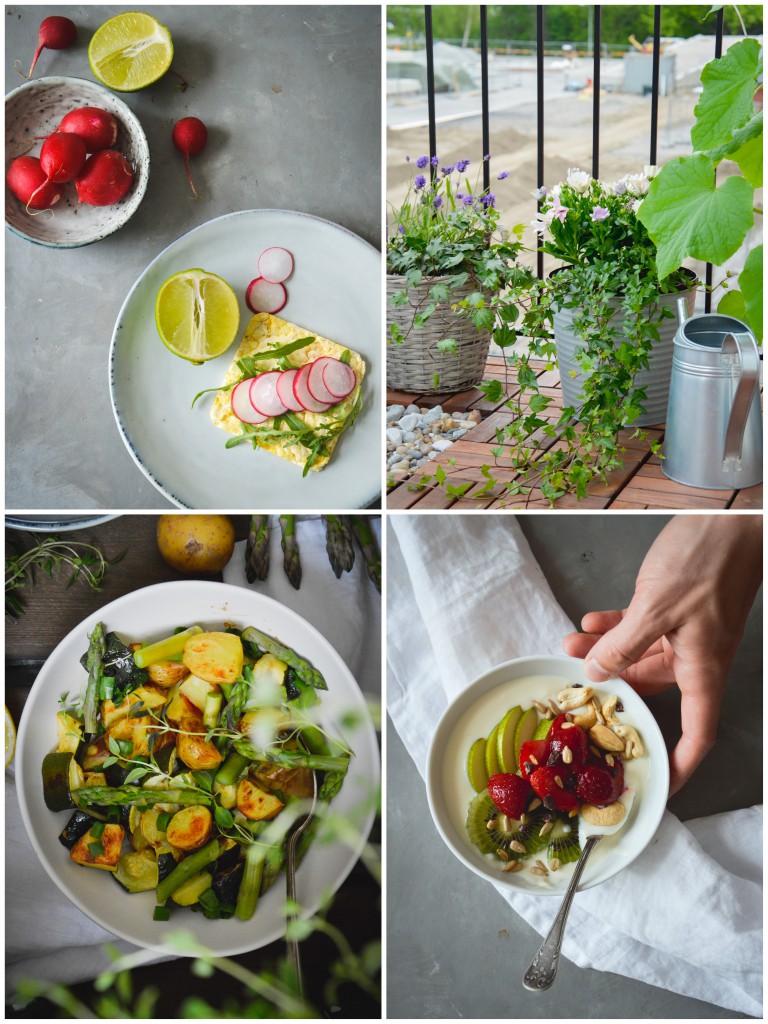 Ovan är några av bilderna jag tagit under den gångna månaden och när jag ser tillbaka så inser jag att jag faktiskt har hunnit med en hel del. Nu ser jag fram emot att sommarens första månad äntligen är här och för att ge maj ett fint avslut tänkte jag dela med mig av några extra bra blogginlägg jag läst under månaden. Det här med länk-kärlek är något som fler och fler börjar med och jag tycker det är så himla fint att dela med sig av allt bra som finns på Internet. Att vara schysst på nätet är ju så himla viktigt, så genom att dela med mig av lite länk-kärlek hoppas jag kunna bidra med lite positiv stämning jag med <3
Lindsey's (Dolly & Oatmeal) blogg är full av underbara recept så att välja ut ett att tipsa om är inte enkelt. Jag har följt Lindsey så länge jag kan minnas och inspirationen slutar aldrig flöda. Under maj månad har hon bland annat gjort denna overkligt krämiga soppa med sparris och tahini. Och jag måste också tipsa om den underbara picknicken hon visade bilder från – jag dör lite. Hennes tips på hur man får till den perfekta picknicken är dessutom helt outstanding.I'm always drooling over everything Lindsey (Dolly & Oatmeal) creates, and I had such a hard time choosing one – and only one – recipe to include to the May summary. Dolly & Oatmeal is one of the food blogs I've followed since the beginning (almost), and Lindsey is such a drool-friendly source of inspiration. Just look at this creamy tahini and lemonasparagus soup for example, I have never seen a soup this creamy and it's on my list of recipes to try. Also, take a look at this picnic she went on, doesn't it look absolutely perfect with the surroundings and all the great food? Also, her tips and tricks for a succesful picnic are the best!
Minimalist Baker kan det här med lättlagade recept. Denna morotssallad med currysmakande cashewnötter ser helt fantastisk ut och tar bara 30 minuter att svänga ihop. Och kom igen, cashewnötter och curry i kombination är ju helt genialt!This thai carrot salad with curried cashews from Minimalist Baker is beyond words. It takes 30 minutes to make and curry spiced cashews, I mean, isn't that just brilliant. This also makes its way to my must-try list of recipes.
Izy Hossack är ett matgeni, det vet vi redan. Nu när sommaren är här frossar jag i frukt och bär, vilket jag i och för sig gör året om, men på sommaren blir min frukt-besatthet ännu värre. Hur som helst, när Izy postade detta recept på jordgubbs-tarts och detta på rabarbgaletter, ja då hoppade jag nästan upp och ner av glädje. Jag måste göra glutenfria varianter av båda dessa mästerverk!Izy Hossack is a genius, we all know that. Now when summer is finally here I'm all about fresh fruits and berries. Well, I'm obsessed with that all year around, but you know, during summer this obseesion hits, let's say, heights way beyond normal. So, when Izy posted this recipe of the simplest strawberry tart, and this recipe of rhubarb galettes I kind of jumped up and down. Of course I would have to make glutenfree versions of them both, but still. I have to try them asap!
Evelinas ekologiska inspirerar mig dagligen med sina fantastiska recept på både mat och hudvårdsprodukter. I det här inlägget tipsar hon om vegetariska hamburgare med glutenfritt hamburgerbröd. Perfekt för sommarens alla grillfester!Evelina inspires me every single day with her amazing food and skincare recipes. In this blog post she shares an amazing recipe for veggie burgers, which I can't wait to try out for myself.
Varje måndag publicerar Agnes ett inlägg om veckans planer och så delar hon med sig av något smarrigt recept. Denna månaden föll jag pladask för detta recept på surdegstoast med ugnsbakade persikor. Måste. Testa. En. Glutenfri. Variant.Every Monday Agnes writes about her plans for the week and also shares an amazing recipe of sourdough toast with oven baked peaches. I mean, come on. This is absolutely brilliant.
Hungryheart är DIY-bloggen där man kan hitta allt möjligt kreativt, spännande och smart. Nu när det är nässelplockardags tipsar hon om hummus gjord på nässlor. Spännande!Hungry heart has made hummus with nettles!
Min bloggkollega här på The Waves, Johanna, skriver världsbra om det här med att våga ta betalt utan att skämmas. Ett måste att läsa för alla som bloggar och frilansar.Johanna is my blog college here at The Waves and she has written a very important article about earning money (in Swedish). 
Warning: Trying to access array offset on value of type null in /customers/2/c/2/thewaveswemake.se/httpd.www/wp-content/themes/20160107-simplemag/inc/ad-units-actions.php on line 111 Warning: Trying to access array offset on value of type null in /customers/2/c/2/thewaveswemake.se/httpd.www/wp-content/themes/20160107-simplemag/inc/ad-units-actions.php on line 111 Warning: Trying to access array offset on value of type null in /customers/2/c/2/thewaveswemake.se/httpd.www/wp-content/themes/20160107-simplemag/single.php on line 188